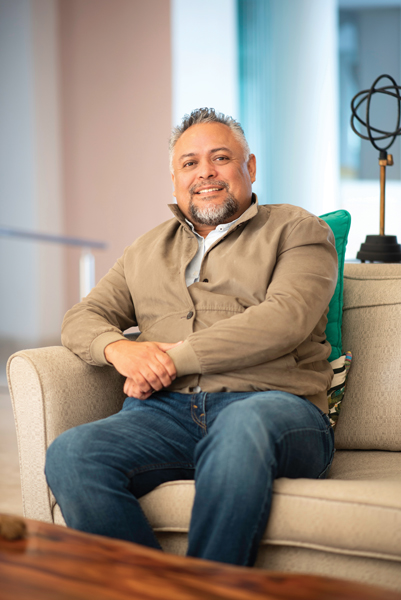 Es originario de Guadalajara, Jalisco. Estudió la carrera de médico cirujano y partero en la Universidad de Guadalajara, dónde fue presidente y consejero general universitario, realizó la especialidad en Pediatría en los Hospitales Civiles de Guadalajara, y adiestramiento en Gastroenterología y nutrición pediátrica en el hospital infantil de México, arribó a Puerto Vallarta en el 2004, laborando en el sector salud de la región sanitaria de Puerto Vallarta, siendo Director del centro de salud en el 2007, así mismo laboró en el IMSS y hospital Regional, actualmente dedicado a la práctica privada en el Hospital San Javier.
Desde hace 10 años imparte la Materia de Gastroenterología en la carrera de medicina del Centro Universitario de la Costa, además coordina 2 eventos de suma importancia para el turismo deportivo de esta localidad como es la Gran Carrera del día del Médico y la Ruta Ciclista Vallarta-Bahía de Banderas.
Considera que los padres son el mejor ejemplo para que sus hijos tengan un desarrollo Bio, Psico- Social de buena calidad para la integración en la sociedad. "Mi hijo, mi espejo"
He is originally from Guadalajara, Jalisco. He studied the career of surgeon and accoucher at the University of Guadalajara, where he was president and general adviser of the University, he specialized in pediatrics in the civil hospitals of Guadalajara, and training in gastroenterology and nutrition Pediatric at The Children´s Hospital in Mexico, he arrived in Puerto Vallarta in 2004, working in the health sector of the region of Puerto Vallarta, being Director of the health center in 2007, and worked at the IMSS and Regional Hospital, he is currently dedicated to private practice at San Javier Hospital.
For 10 years he has been teaching gastroenterology in the medical career of the Centro Universitario de la Costa (CUC), he also coordinates 2 important events for the sports tourism of this locality such as the Great Race of the day of the Doctor and the cycle route Vallarta Bahia de Banderas.
He believes that parents are the best example, for their children to have a good Bio, psycho-Social quality development for integration into society. "My son, my mirror."
Clínica SANMRÉ Blvd. Francisco Medina Ascencio 2735, Zona Hotelera Norte, Puerto Vallarta, Jal.
Tel. 322 429 4954  24/7