Sociales
Gran gala anual del Garden Club A.C.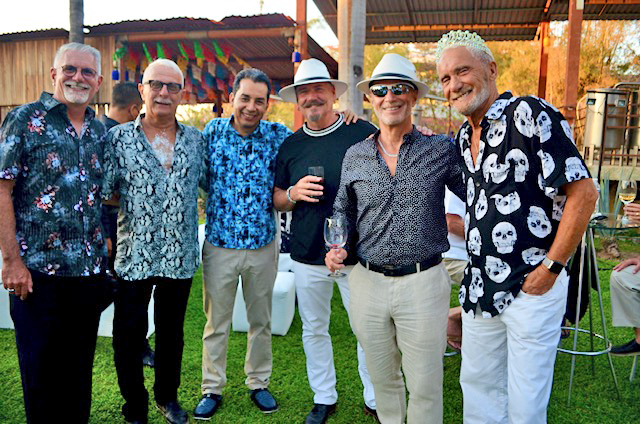 Integrantes del Garden Club celebraron su tradicional cena de gala Negro, Blanco y Brillo para recabar fondos y continuar con su importante labor de paisajismo en Vallarta. Su trabajo se financia con donaciones privadas que llegan a través de cuotas de membresía, donaciones y el dinero que recaudan de la gala anual. Actualmente cuenta con más de 200 miembros.
Hoy, sus voluntarios y jardineros profesionales plantan, riegan y mantienen cientos de jardineras a lo largo de las calles del casco antiguo e instalaciones paisajísticas en la Plaza de Armas, la calle que conduce al Muelle de Los Muertos, y al Miramar en las gradas de Aldama. Han plantado miles de hermosas buganvillas, palmeras y coloridas plantas fronterizas en un esfuerzo continuo que involucra donaciones de varios millones de pesos e
innumerables horas de voluntariado en pro de nuestro bello Vallarta.
Members of the Garden Club met to celebrate their
traditional black, white and glitter gala dinner to raise funds to continue their important landscaping work in Vallarta.
Great annual gala of the Garden Club A.C.
The work is funded by private donations that come through membership fees, donations and the money being collected from the annual gala. Currently there are more than 200 members. Today, volunteers and paid professional gardeners plant, water and maintain hundreds of flower boxes along the streets of the old town and landscape installations in the Plaza de Armas, the street that leads to the Muelle de Los Muertos and the Miramar in the stands of Aldama. They have planted thousands of beautiful bougainvillea, palm trees and colorful border plants in an ongoing effort involving donations of several million pesos and countless hours of volunteering for our beautiful Vallarta.